Martha Wajero is vivacious and determined. Perhaps that's why she is succeeding in Nigeria's Nollywood.
If you have never heard of Martha Wajero, here's what you need to know. She is a Kenyan born Nollywood actress. When she is not acting, she's a blogger, a model, a dancer and a student at Daystar University doing a degree in Communication – Electronic Media.
The Kenyan Nollywood star spoke to Samuel Njoroge of KBC on Good Morning Kenya about succeeding in the Nigerian film market, the film industry in Africa, her dreams of Hollywood and inspiring young girls to be who they are without apologies.
Interview by Samuel Njoroge
I'd been trying to get into the Kenyan movie scene or into at least one series for a long time and it was just not happening.

Get breaking news on your Mobile as-it-happens. SMS 'NEWS' to 22163

How did your journey into film begin?
I began acting in 2015 when I was doing set book plays with Pambazuka Arts. After high school, I really wanted to act so I decided why not join a theatre group and begin there. That's how I started out in acting.
Was it tough?
Definitely, nothing comes easy. Even before I went to Nigeria, I had gone to multiple auditions here in Kenya and failed.
Let's talk a little bit about your early days in theatre. How has theatre shaped your (on-screen) acting career?
Acting in theatre is more difficult than on-screen acting, in my experience. You have to be more emotive on stage than you have to be on screen because you are tasked with presenting the experience of an event, whether imagined or real to a live audience. I will say that theatre gave me experience and made my transition into film and TV easier.
How long did you do theatre?
I did theatre for three months.
90 days? You acted in plays for 90 days and transitioned into movies?
Yeah. Nollywood.
How did you do it? How did manage to get into Nollywood?
I struggled through it and rose above it through sheer determination.
Let's talk about this struggle…
I'd been trying to get into the Kenyan scene or into at least one series for a long time and it was just not happening. Someone would always say that there would be auditions but then these auditions would never actually materialise.  Eventually, I decided to try my luck in Nigeria.
That just goes to show how powerful conviction is and can be, but did you experience any hiccups when you were moving from Kenya to Nigeria?
Coincidentally, it(the call) happened when the Daystar January/May semester was coming to an end so I had no problem travelling in June. My parents were reluctant about my moving to Nigeria but they eventually supported my decision. My mum even travelled to Nigeria with me. She was with me throughout.
Production in Nigeria is very fast. I shot a movie, My Kids and I,  in one week and we shot Fighting Temptations Book one in three days. That's how fast production in Nigeria is.
When we talk about acting in Africa, we talk about three places, South Africa, Nairobi and Nigeria. What made you choose Nigeria over South Africa?
I chose Nigeria because I've been there before. I lived in Nigeria for seven years which is where my inspiration for acting came from. It was an easy decision to make, I thought why not go back there and act.
What took you to Nigeria?
My dad was working in Nigeria at the time.
How is Nigeria? Is it true the population is massive?
Yes, it is. But I love Nigeria, it's full of diverse, talented people. They also support their own talent which is great.
How old were you when you moved to Nigeria?
I was born in Kenya but I grew up in Nigeria. So my formative years were spent in Nigeria, however,  later on, we moved to Rwanda which is where I graduated from High School.
As far as acting goes what's the difference between Nigeria and Kenya?
Production in Nigeria is very fast. I shot a movie, My Kids and I,  in one week and we shot Fighting Temptations Book one in three days. That's how fast production in Nigeria is. And it's not just the production house that I am attached to, all Nigerian production houses produce movies that fast.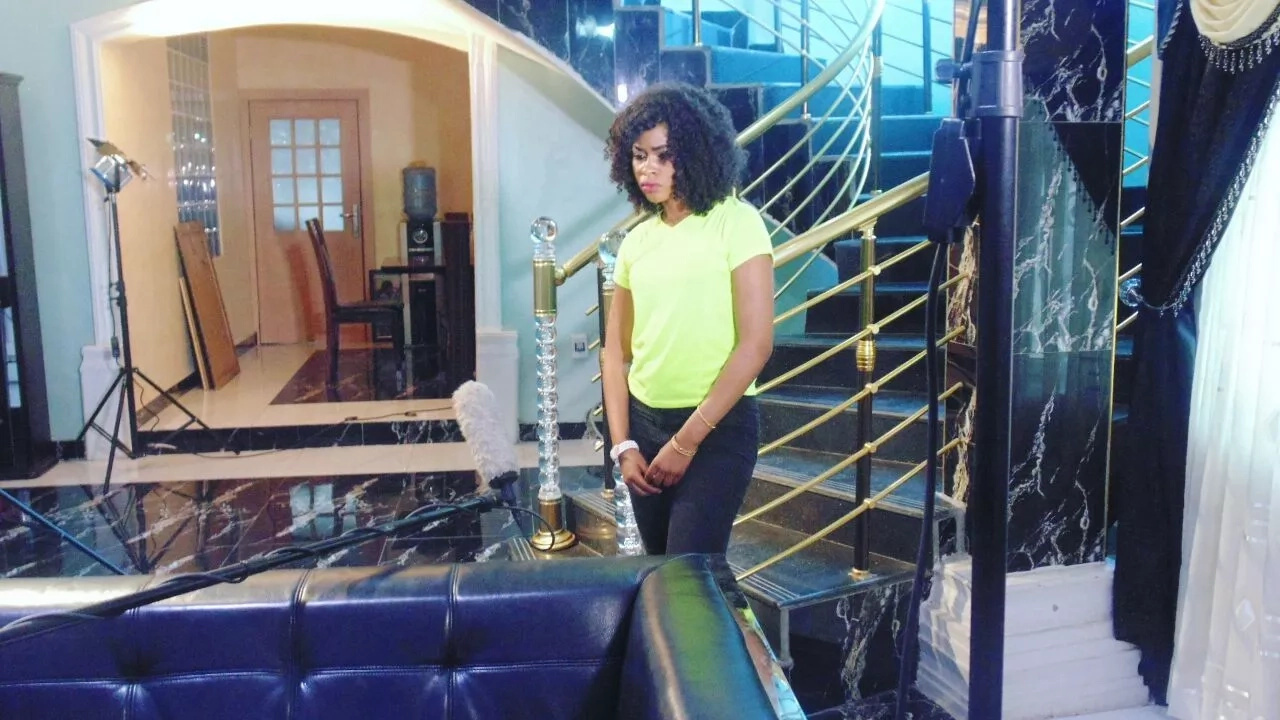 Does this go hand in hand with distribution in Nigeria? When you talk to most Kenyan producers they'll tell you they have the content but nowhere to distribute it. Is that the same case for Nigeria?
That is definitely not a problem Nigerian producers have. Nigerians love their own content. If you go to their homes, you'll find them watching Nollywood productions. They promote their own talent. I once walked into a movie shop in Nigeria and they were selling their own content. They love what they do and they buy what they do.
Do Nigerians like any Kenyan content?
Yes. Some of the people I work with like Sauti Sol.
Is it hard to put yourself in a position where you have to cry on demand?
At first, it was hard. It's hard especially when the director is asking for real tears.
So what do you do in that moment when the director is asking you to cry? Do you think of something sad?
You have to put yourself into the mood of that character. Lucy, my character, is an orphan who is being mistreated. So in one scene, she'll be sad, in the next she'll be happy and in another, she'll be mean. You just have to learn to put yourself in those different moods as fast and as interchangeably as possible.
I want to not only be in Nollywood but in Hollywood.
How do you prepare yourself for your role? How much research do you invest in a role?
What I do is watch other actresses. I especially enjoy Mercy Johnson. She's a really good actress who knows how to play around with emotions. When you watch her movies, you can feel the emotion. So when I get a script, I read through it, before-hand, and try to bring out that character so that the viewer is inspired.
What was your second movie? Was it My Kids and I?
No, it was Fighting Temptations Book 2 where I play a more mature, tougher (so to speak) Lucy. Playing this Lucy for the second movie was easier as compared to the first movie because Fighting Temptations Book 1 was my first movie ever.
What makes you unique in the Nigerian movie industry?
I'm a Kenyan and my accent. (Laughs)
On that note, I'm curious, you spent your formative years, as you stated earlier, in Nigeria. How do you not have the Nigerian accent?
(Laughs)I do or did, but it went away with time.
You said, when we were talking about role research, you look to Mercy Johnson but who do you generally look up to?
Lupita Nyong'o. I want to not only be in Nollywood but in Hollywood.
You're not only an actress but a dancer and a model. Which one comes naturally to you?
Acting. If acting didn't feel natural to me I wouldn't have gone on to do four movies.
In the future who would you like to work with, in Nollywood, other than Mercy Johnson?
Genevieve Nnaji and Patience Ozokwor because they are amazing actresses and in terms of mileage, it would be really huge for me.
Are you currently signed on to any particular label?
Currently, no.
Any particular reason?
I'm still in school and signing on to one would be too hectic for me. If I was studying in Nairobi and acting here then I'd be able to manage and vice versa.
What do you want to achieve in the next ten years?
I want to be the best actress and I want to compete with Lupita Nyong'o or be better than her. I also want to be a role model for younger girls. I want to help young girls reach for their dreams without losing who they are. I'm a firm believer in being true to yourself.
NB: This interview aired on KBC's Good Morning Kenya on September 28th from 7 am to 8 am in a segment called Entertainment Thursday.
Tell Us What You Think