Lebanese PM Saad Hariri has arrived back in Beirut for the first time since announcing his shock resignation in Saudi Arabia more than two weeks ago.
Mr Hariri was greeted at Beirut airport by members of the security forces as he disembarked from his plane.
Mr Hariri caused a political crisis and stunned many in his country when he quit during a visit to Riyadh.
He denied speculation that Saudi Arabia had forced him to depart as part of a regional power struggle with Iran.
Lebanese President Michel Aoun has refused to accept his resignation until he returns to present it in person. The pair are due to meet later on Wednesday.
On Saturday, Mr Hariri flew to Paris where he met French President Emmanuel Macron, who has been trying to broker a way out of the stalemate.
While in France, Mr Hariri vowed to return to Lebanon to take part in independence celebrations on Wednesday, adding: "It is there that I will make known my position… after meeting President Aoun."
Shortly after landing at Beirut airport he was asked if he had a message for the Lebanese people, and replied: "Thank you".
He later read a prayer at the grave of his father, Rafik al-Hariri, who was assassinated in 2005.
Mr Hariri abruptly announced he was resigning during a trip to Saudi Arabia on 4 November.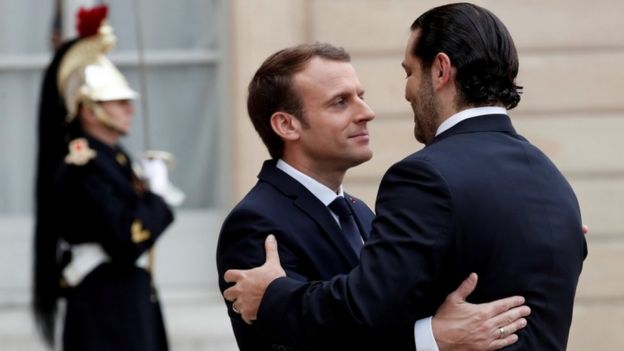 In a televised statement, he said he feared assassination.
He also accused Iran of sowing "discord, devastation and destruction" in the region and alleged that the Hezbollah group was destabilising the nation.
President Aoun accused Saudi Arabia of holding Mr Hariri against his will but both the Saudis and Mr Hariri denied this.
Mr Hariri has close ties with Saudi Arabia. He holds both Lebanese and Saudi citizenship, owns properties in the kingdom, and Riyadh is a key backer of his political party, the Future Movement.