Police in France have shot, wounded and arrested a man after a dramatic car chase along a motorway north of Paris following an attack on soldiers in a suburb of the capital.
Witnesses spoke of seeing a bullet-ridden BMW at the scene of the arrest.
Earlier, six soldiers were wounded after a car drove at them outside their barracks in Levallois-Perret.
The Paris prosecutor described the attack was "attempted killings… in relation to a terrorist undertaking".
Two of the soldiers were seriously wounded. All were taken to hospital, though none is in a life-threatening condition, Defence Minister Florence Parly said.
France has been under a state of emergency since November 2015.
On 13 November that year, 130 people were killed in a night of carnage in Paris, and more than 100 have been killed in jihadist attacks since.
They include a string of assaults on the heavily armed security forces who now dot the streets of the capital – the last only four days ago.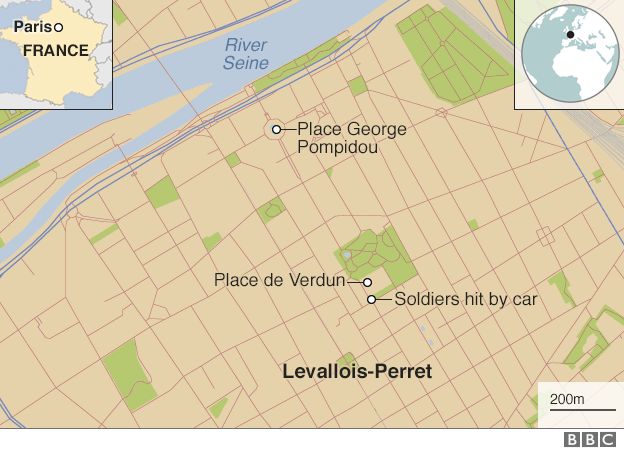 Wednesday's attack at about 08:15 local time (06:15 GMT) took place outside a military barracks on the Place de Verdun in Levallois-Perret.
Interior Minister Gerard Collomb said the car had been driven deliberately at the troops and the attack had been carried out by a "man on his own".
Car 'lay in wait'
The local mayor, Patrick Balkany, told BFMTV a vehicle had been waiting in the road for the soldiers to emerge as they came on duty.
"It was a BMW which accelerated very quickly the moment they came out."
A resident in a nearby block of flats, Jean-Claude Veillant, told reporters he saw part of the attack.
"I heard a loud noise, the sound of scraping metal. Shortly after, I saw one of the badly wounded lying in front of the Vigipirate [army patrol] vehicle and another one behind it receiving treatment," he said.
By BBC