Top seed Rafael Nadal swept past Argentina's Juan Martin del Potro in brilliant style to set up a US Open final against Kevin Anderson.
The Spaniard won nine games in a row at one stage on his way to a 4-6 6-0 6-3 6-2 victory in the second semi-final.
Nadal, 31, will try for a third US Open and 16th Grand Slam title on Sunday, against a surprise opponent.
South African Anderson, 31, beat Pablo Carreno Busta of Spain 4-6 7-5 6-3 6-4 earlier on Arthur Ashe Stadium.
At 32 in the world, Anderson is the lowest-ranked man to reach a singles final at Flushing Meadows since the ranking system was introduced in 1973.
He faces a huge challenge against Nadal, who has a 4-0 record in their head-to-head and grew stronger as the match wore on against a tired Del Potro.
"It means a lot," said Nadal. "It has been an amazing season of course after a couple with injures and troubles.
"To be back here in front of this amazing crowd, on this amazing court, and to have the chance to fight for another title is so important to me."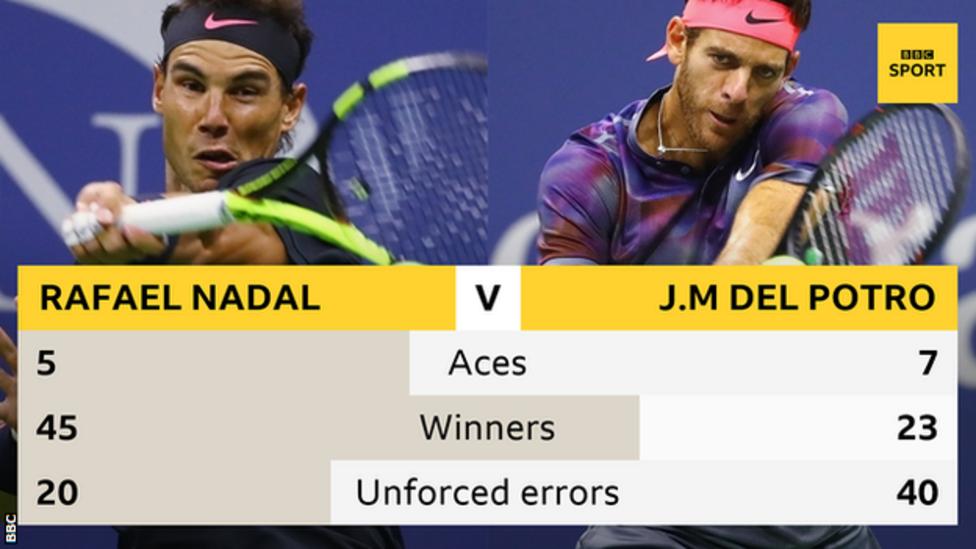 The last time Nadal lost a Grand Slam semi-final was against Del Potro on the same court eight years ago, and he was not about to endure a repeat performance.
After losing a tight first set, the Spaniard hit a rich vein of form, dropping just five more games, dominating on serve and ending the match with 25 forehand winners.
"I changed a couple of things after the first set," added Nadal.
"I was playing too much to his backhand and I knew that I had to change and move him more and be more unpredictable. It worked really well and I am very happy."
Del Potro, roared on by the Argentine fans who have given him loud support throughout this US Open, gathered himself to win a tight first set, before running out of steam.
The 24th seed coped superbly in the early stages as Nadal pummelled his weaker backhand wing, winning the cross-court battle and, thanks to a net cord on break point, with it the set.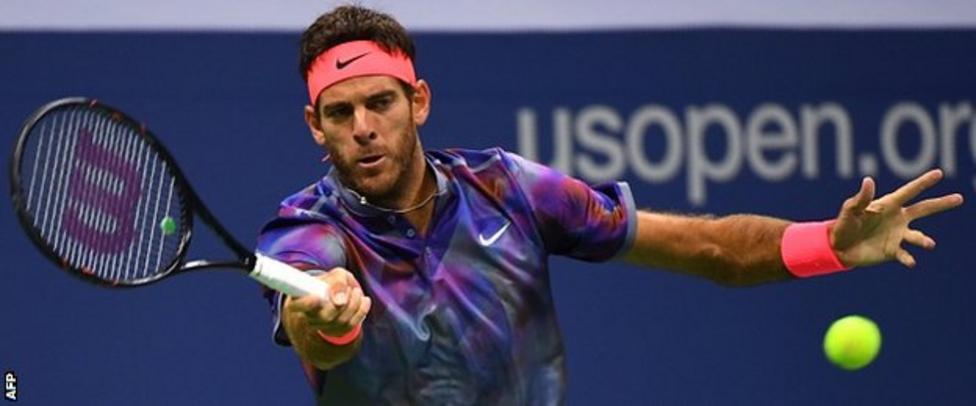 But an epic five-set win over Dominic Thiem and a draining four-set defeat of Roger Federer in the previous rounds had left Del Potro admitting that he felt tired, and Nadal took full advantage.
The world number one found his range in the second set, shifting the point of attack to send his forehand up the line and reeling off 13 winners to Del Potro's one.
By the time Nadal had pulled out a 3-0 lead, there was little opposition for him across the net.
Del Potro looked to be saving his remaining reserves of energy to go again in the third, but after falling 5-2 down, a late flurry of resistance was not enough.
Nadal punched away a volley on set point just as the match clock hit two hours, followed by the familiar fist-pump and cry of "Vamos!"
Another forehand winner, his 23rd of the night, guided down the line brought the 2010 and 2013 champion the break he needed in the fourth, and there was no way back – even for Del Potro.
"I'm just tired," said Del Potro. "I've been exhausted after the [Dominic] Thiem match, the Roger [Federer] match. I had flu during the week.
"So I had many problems before this match, but I was very motivated to play the semi-final in my best tournament.
"He just played better than me. He deserved to win, and I did all my best, all my effort to survive this match – but I couldn't do well."
Looking forward to his next opponent, Nadal said: "It will be very tough against Kevin.
"He has an unbelievable serve and is a great example for the kids in the way he has come back from injury.
"I have known him since we were 12, so I am very happy for him."