Naomi Osaka won the US Open after an angry Serena Williams accused the umpire of being a "thief" in some of the most dramatic scenes at a Grand Slam final.
Williams was given a game penalty for her outburst, which followed racquet smashing and another code violation as Osaka won 6-2 6-4 in New York.
Osaka, 20, kept her focus to become the first Japanese to win a Grand Slam.
Williams refused to shake hands with umpire Carlos Ramos after the match.
The American, 36, graciously congratulated Osaka at the net after the 20th seed completed an extraordinary victory and, although Williams' behaviour will grab the attention, nothing should detract from a classy and composed display from Osaka at Flushing Meadows.
"I'm sorry it had to end like this," a crying Osaka said.
What happened?
Williams was given a first code violation after Ramos judged a gesture from coach Patrick Mouratoglou to be coaching.
Williams – who was aiming to equal Margaret Court's record of 24 Grand Slam singles titles – said she had not received any tactics from Mouratoglou, telling the umpire she would "never cheat to win and would rather lose".
The Frenchman later admitted to ESPN that he had been coaching from the box.
"I was coaching but I don't think she looked at me," Mouratoglou said. "Sash [Osaka's coach Sascha Bajin] was coaching as well. Everybody does it."
Williams then received another for a racquet smash at 3-2 in the second set, leading to Ramos docking her a point as Osaka started at 15-0 in the following game.
The American was furious, walking up to Ramos, shouting and pointing at him as the crowd started booing in support of the former world number one.
The drama continued as the atmosphere in Arthur Ashe Stadium became more toxic.
Williams refused to let the issue slide and launched an extraordinary rant at Ramos at the changeover, with Osaka leading 4-3.
"You are a liar. You will never be on a court of mine as long as you live. When are you going to give me my apology? Say you are sorry," she told the Portuguese.
That led to Ramos docking her the next game – leaving Osaka just one more away from victory at 5-3 up.
Boos continued to rain down, generating incredible noise, as Williams refused to take to the court and demanded an intervention from the tournament referee.
Eventually she returned to the baseline, serving out a game to love before Osaka showed remarkable focus to hold the final game that sealed her first Grand Slam win.
Williams later accused the umpire of sexism, saying: "He's never taken a game from a man because they said 'thief'."
Boos, anger & tears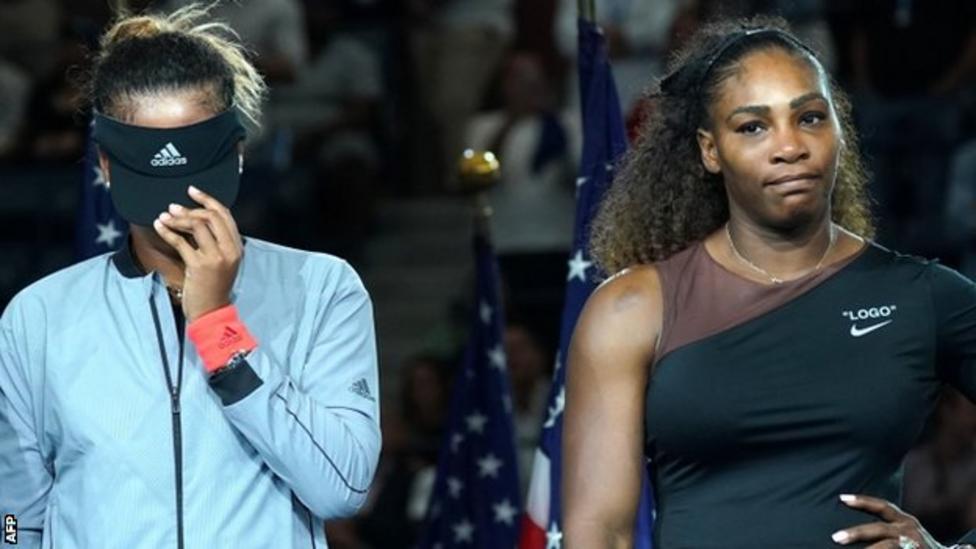 Williams is a national icon in the United States, as well as a global star around the world, and had the backing of the 24,000-capacity Arthur Ashe Stadium.
But the boisterous crowd was quietened as Osaka came out firing at the six-time champion.
Osaka, playing in her first Grand Slam final and against her idol, showed no fear as her aggressive approach led to multiple Williams errors.
Williams' first-serve percentage was down at 38% and made 13 unforced errors as Osaka broke for 2-1 and 4-1 leads on her way to the opening set.
The Ashe crowd, while remaining respectful towards Osaka, was already upset with the way Williams had been treated – and unhappiness turned to anger during the drama of the second set.
Security staff ran on to the perimeter of the court as Ramos walked off and the Portuguese did not return, as he would usually have done, for the trophy presentation.
More boos followed at the start of the ceremony, leading to Osaka pulling her visor down over her eyes to hide her tears.
Williams appealed for calm in her runner-up speech, asking her supporters to "give credit" to Osaka's achievement.
The Japanese player composed herself as the crowd began to applaud her, although she almost dropped the trophy as she walked off the stage.
"It was always my dream to play Serena in the US Open finals so I am really glad I was able to do that," she said.
Third time angry for Serena
"This has happened to me before, this is not fair," Williams told the umpire after she was docked the point for racquet-smashing, apparently referring to two previous controversies at US Open matches.
The American received a point penalty on match point of her 2009 semi-final against Kim Clijsters following a tirade at a line judge.
The Belgian was two points from victory when Williams, who had earlier been given a code violation for racquet abuse, was called for a foot fault.
Williams launched an angry outburst at the official and got the point penalty, meaning Clijsters won 6-4 7-5.
She later apologised.
That incident left Williams on a two-year probation period, so she was fined $2,000 (£1,265) for abusing umpire Eva Asderaki during the 2011 final, where she lost to Australian Sam Stosur.
"If you ever see me down the hallway look the other way," she told Asderaki. "You're out of control. You're a hater and you're just unattractive inside."