US Secretary of State Mike Pompeo has arrived in Saudi Arabia to meet King Salman, amid controversy over the fate of Saudi journalist Jamal Khashoggi.
Mr Pompeo will then visit Turkey, where Mr Khashoggi was last seen at the Saudi consulate in Istanbul two weeks ago.
Turkish officials believe Mr Khashoggi was murdered by Saudi agents but the Saudis have strongly denied this.
On Monday, President Donald Trump suggested "rogue killers" could be behind Mr Khashoggi's disappearance.
The president provided no evidence to back his comment.
However, he said that during a phone call the Saudi king had firmly denied knowing what had happened to Mr Khashoggi.
Early on Tuesday, Turkish police left the Saudi consulate, where Mr Khashoggi was last seen, after an overnight search.
It was the first time they had been allowed to enter the building since the journalist disappeared on 2 October. It followed disagreements between the two sides over the terms of any search.
However, unconfirmed reports in the US media suggest Saudi Arabia is preparing to admit that Mr Khashoggi died as a result of an interrogation that went wrong and that the original intention had been to abduct him.
Meanwhile, Arabic channel Al-Jazeera quotes the Turkish attorney-general's office as saying it has found evidence to back claims that Mr Khashoggi was killed inside the mission.
Earlier, a Turkish security source told the BBC officials had audio and video evidence proving Mr Khashoggi was murdered there.
The issue has strained Saudi Arabia's ties with its closest Western allies.
How are the Saudis reacting?
Diplomatic pressure is growing on the Saudis to give a fuller explanation.
On Monday, King Salman ordered an investigation.
"The king has ordered the public prosecutor to open an internal investigation into the Khashoggi matter based on the information from the joint team in Istanbul," an official quoted by Reuters news agency said.
The official said the prosecutor had been instructed to work quickly.
Last week, Turkey accepted a Saudi proposal to form a joint working group to investigate Mr Khashoggi's disappearance.
On Sunday, the Saudi government angrily rejected political and economic "threats" over the case of the missing journalist and said it would respond to any punitive action "with a bigger one".
How was the consulate search conducted?
Investigators entered the building in Istanbul on Monday afternoon – a Saudi team first, followed roughly an hour later by Turkish forensic police.
Saudi Arabia agreed last week to allow Turkish officials to conduct a search but insisted it would only be a superficial "visual" inspection.
Turkey rejected that offer. The Sabah daily newspaper said investigators had wanted to search the building with luminol, a chemical which shows up any traces of blood. It is not clear whether that happened.
What allegedly happened in Istanbul?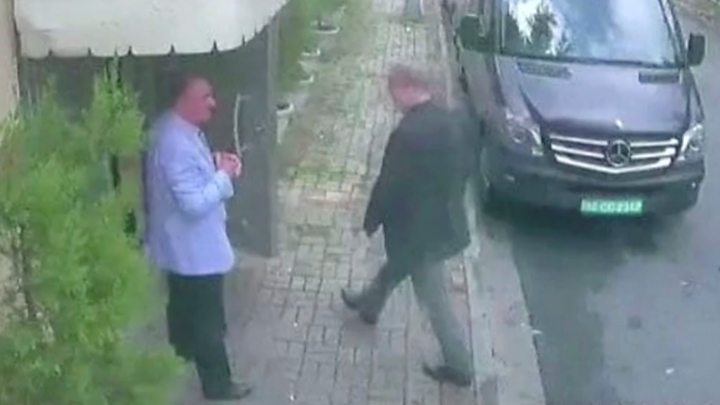 Mr Khashoggi, a critic of the Saudi government who has written for the Washington Post, was last seen walking into the consulate on 2 October.
Reports suggest an assault and struggle took place in the consulate after Mr Khashoggi went to get paperwork for his forthcoming marriage.
Turkish sources allege he was killed by a 15-strong team of Saudi agents but Riyadh insists that he left the consulate unharmed.
Mr Khashoggi was once an adviser to the Saudi royal family but fell out of favour with the Saudi government and went into self-imposed exile. He is a US resident.
What other reaction has there been?
The European Union has joined calls for a transparent investigation.
The international conference, starting on 23 October, has been dubbed "Davos in the Desert", though the World Economic Forum says it has nothing to do with its annual event in the Swiss Alps.
Officially entitled the Future Finance Initiative, the Saudi conference describes itself as an "international platform for expert-led debate between investors, innovators and governments as well as economic leaders".
Significantly, it was expected to showcase the reform agenda of Saudi Crown Prince Mohammed bin Salman.