By PSCU/ Beth Nyaga
President Uhuru Kenyatta Wednesday morning at State House, Nairobi, held discussions with the Catholic Bishops on a  range of issues.
Led by John Cardinal Njue and RT. Rev. Philip Anyolo — chairman of the Kenya Conference of Catholic Bishops, they thanked President Kenyatta and his Government for investing  in Kenya's economic development.
The bishops singled out various flagship projects being undertaken by the government such as infrastructure and laptops to school children which they noted will go a long way in improving the lives of ordinary Kenyans.
They also expressed gratitude to the President and his government for maintaining a peaceful and conducive environment for investors, business people, visitors and the general public.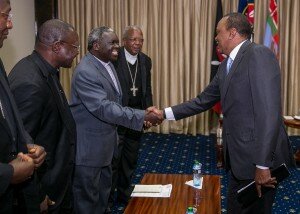 The bishops thanked President Kenyatta for his move to pardon 7,000 petty offenders and commuting the death sentences of prisoners on death row saying his action demonstrated a genuine concern for the life of Kenyans.
They commended the Head of State for heeding the call by religious leaders on the issue of IEBC commissioners saying the action taken by the government has helped in cooling down political temperatures in the country.
They urged the government to continue putting measures in place to ensure the milestone achieved so far is not derailed by those not interested with the well-being and progress of the country.
They expressed their support to the government on reforms being carried out by the ministry of education to ensure integrity of the country's education system.
President Kenyatta thanked the bishops for their concern on pertinent issues affecting the country saying their support is crucial in building a cohesive society and nationhood.
He hailed their leadership role in national affairs and thanked them for the provision of education, health and water services in the country.