A final decision on whether Russian athletes will compete under a neutral flag at the 2018 Winter Olympics will be made next week.
The International Olympic Committee says Russian sports federations and athletes will meet on 12 December.
The Russian Olympic Committee was banned from the Pyeongchang Games by the IOC on Tuesday for doping offences.
But IOC president Thomas Bach said he hoped clean athletes would "seize the opportunity" to compete in South Korea.
Russian President Vladimir Putin has already said the state will not stand in the way of athletes wanting to go to the Games in February.
Russia implemented a state-sponsored doping programme involving 1,000 athletes across 30 sports from 2011-2015, leading to the ban. But in announcing the sanction on Tuesday, the IOC also stressed it had a clear pathway for clean athletes to compete as individuals.
Bach, who was addressing reporters in Lausanne 24 hours after that punishment was announced, said those competing under the name Olympic Athlete of Russia (OAR) would represent "a new generation of clean Russian athletes".
But he denied the use of the OAR name was a compromise to try to avoid a Russian boycott, instead insisting it was "reflecting reality".
He cited the World Athletics Championships in London in August, where Russian athletes competed in neutral kit – but Bach pointed that everyone knew who they were and where they were from.
The decision whether to write the word 'Russia' on the kit, as opposed to OAR is still under consideration, he said.
Bach also confirmed the possibility that Russian athletes could parade under their country's flag during the closing ceremony in Pyeongchang, as long as the sanction had been accepted and respected.
"A new beginning is possible and we can look into the future of clean sport in Russia and this could be a really strong message," he added.
Concerns over weightlifting and boxing
The IOC executive board meeting in Switzerland also looked into the widespread allegations of doping in Olympic weightlifting.
The International Weightlifting Federation (IWF) presented a report on its plan to tackle the problem, including new testing programmes.
Bach said tests show approximately 10% of athletes had tested positive for banned substances and therefore the IOC has asked for further evidence from the IWF to show it would continue to address the widespread doping in the sport before granting permission to compete in Paris 2024.
Bach also said the IOC had "major concerns" about the governance of boxing.
The international federation of boxing, AIBA, has been asked to report back to the IOC in January on issues of finance, anti-doping, refereeing and judging.
A new start for Russian whistleblower?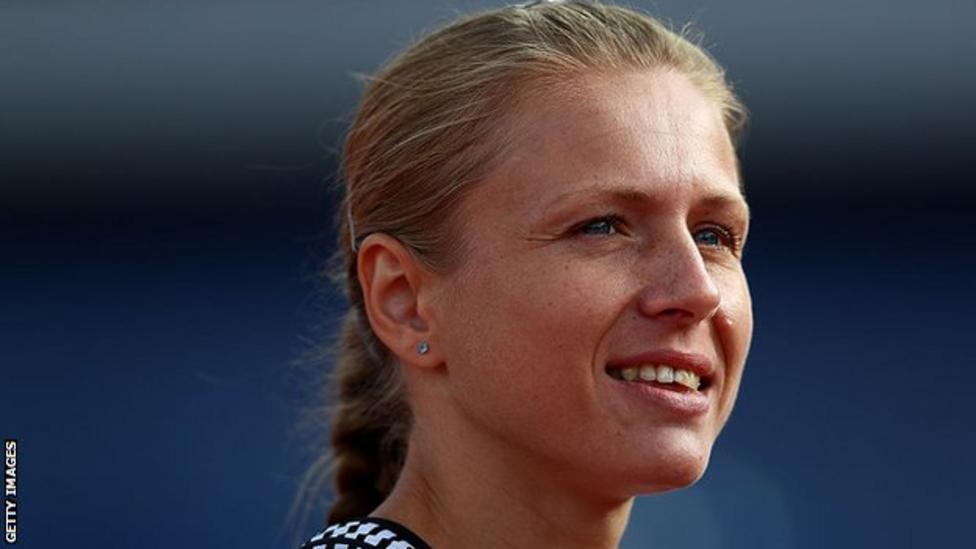 Former 800m runner Yulia Stepanova and her husband Vitaly Stepanov, who worked for the Russian Anti-Doping Agency (Rusada), were forced to flee to the United States after whistleblowing on the state-sponsored doping programme.
They appeared in a German TV documentary in 2014 which claimed as many as 99% of Russian athletes were guilty of doping.
They alleged leading Russian athletics officials supplied banned substances in exchange for 5% of an athlete's earnings and colluded with doping control officers to falsify tests and cover up results.
Bach was asked whether Stepanova, who was banned from competing in Rio 2016, would have the opportunity to compete at the Olympics once again.
He confirmed he met the couple and had a "very good, and in the end, friendly discussion" and said the IOC is supporting them both, while also benefitting from Stepanov's past experience with Rusada.
On Stepanova, he added: "We hope that she can find a new national Olympic committee which would allow her to qualify – maybe – for the Olympic Games in Tokyo 2020."