A public inquiry in South Africa has started investigating alleged corruption by ex-President Jacob Zuma.
The inquiry is looking into "state capture", where the wealthy Gupta family is accused of trying to influence political decisions, including the naming of ministers.
Accusations of graft dogged Mr Zuma's presidency before he was forced to step down in February.
The former president and the Gupta family deny any wrongdoing.
Opening the inquiry, commission head Deputy Chief Justice Ray Zondo appealed for South Africans to share what they know.
"We urge all South Africans who love this country to come forward and assist this commission in order that we may resolve this problem," he said.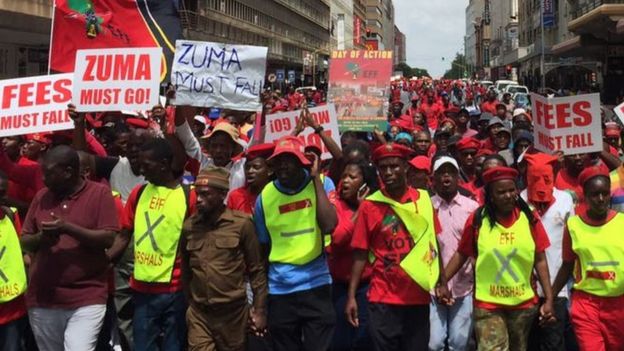 Mr Zuma was ordered to set up the commission by the high court last December following a report by the public protector, South Africa's anti-graft body.
It had found evidence of possible corruption at the top level of his government.
One of the allegations is that in 2015 then-Deputy Finance Minister Mcebisi Jonas was offered 600m rand ($41m; £32m) by businessman Ajay Gupta if he accepted the post of finance minister.
Mr Jonas is expected to be among the first witnesses to give evidence.
The inquiry, known as the Zondo Commission, does not have powers to prosecute but the evidence it collects can be used in any future prosecution.
It could take up to two years to release its findings.