By Beth Nyaga
President Uhuru Kenyatta has moved to assure teachers of a speedy implementation of the Collective Bargaining Agreement signed between the government and teachers' unions that will see a new grading and salary structure for teachers in the country.
The Head of State also said his government is committed in ensuring that the country's education standards are enhanced saying the latest development should ensure that the standards are commensurate with the new perks
The deal which will be implemented over a period of four years beginning July next year is expected to end perennial teacher's strikes that have characterized the education sector.
Get breaking news on your Mobile as-it-happens. SMS 'NEWS' to 20153

The union leaders however pleaded with the government to try and implement the deal at one go which the President said they can only implement the deal according to the state resources availability.
Last year, the Head of State had directed the talks between the unions' and their employer be done speedily and concluded on time.
KUPPET Chairman Omboko Milemba said the deal was progressive as teachers will benefit more.
"We have been fighting for the increment to be pegged on the basic salary which is what has happened and that means that retiring teachers will now get a better package," he said.
KNUT Secretary general Wilson Sossion said improvement in terms of service for teachers will make teaching competitive and attractive and will bring equity.
Under the deal that will cost taxpayers Sh54billion, P1 grade was abolished and entry point moved to H also known as B5.
All primary and post-primary teachers in non-administrative positions were also move from Grade B5 (former Job H) to D1 (formerly Job Group P) while Primary school administrators were placed at grade C2 (formerly Job Group K) and the highest at D1 (formerly P) depending on the category and size of the school.
Teachers under job group D3 that were previously receiving 104 644 shillings per month will now be paid 125 573 shillings, D2 from 91 041 to 109 249 shillings, D1 from 77 840 to 93 408 shillings, C5 from 62 272 to 77 840 shillings while those in job group C4 will now enjoy 65 385 shillings up from 52 308.
The CBA has also addressed other non-monetary but crucial benefits to teachers in areas of leaves and professional development.
However, recruitment of those in administrative positions will be done competitively and based on performance of an individual teacher.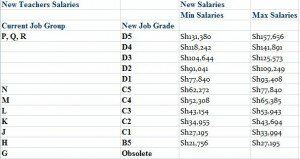 Save
Tell Us What You Think