By BBC
Zambia and Zimbabwe, this year's Cosafa Cup finalists, have a rivalry stretching back to before independence and in the Cosafa Cup they have matched each other virtually pound-for-pound over the 20 years since the competition was first launched.
They go into Sunday's final at the Royal Bafokeng Sports Palace near Rustenburg in South Africa with four Cosafa titles each and in this tournament they have played each other six times before – with two victories apiece and two draws.
It is expected that the final will keep up that tight rivalry, even if Zambia should be markedly fresher than their southern neighbours.
Zimbabwe will be playing a sixth game inside a fortnight having been forced to participate in the first round of the group phase because of their lowly ranking.
While fatigue did seem to inhibit them at times on Wednesday, Zimbabwe still dug deep enough to edge Lesotho 4-3 in a thrilling semi-final.
But the effects of the punishing programme could yet have some sway in the deciding match, given Zambia only joined the tournament at the quarter-final stage last weekend and this will be only their third game after edging Botswana 2-1 in the last eight and then Tanzania 4-2 in Wednesday's first semi-final.
"It's going to be a tough final because the Zambians have only played twice and we've played five games," said Zimbabwe coach Sunday Chidzambwa.
"They are still fresh. We will really have to work if we are to win the cup. It will be a very difficult game."
Zimbabwe last won in 2009, when they beat Zambia in the final, while Zambia's last success was four years ago, when they turned the table on the Zimbabweans in the deciding match.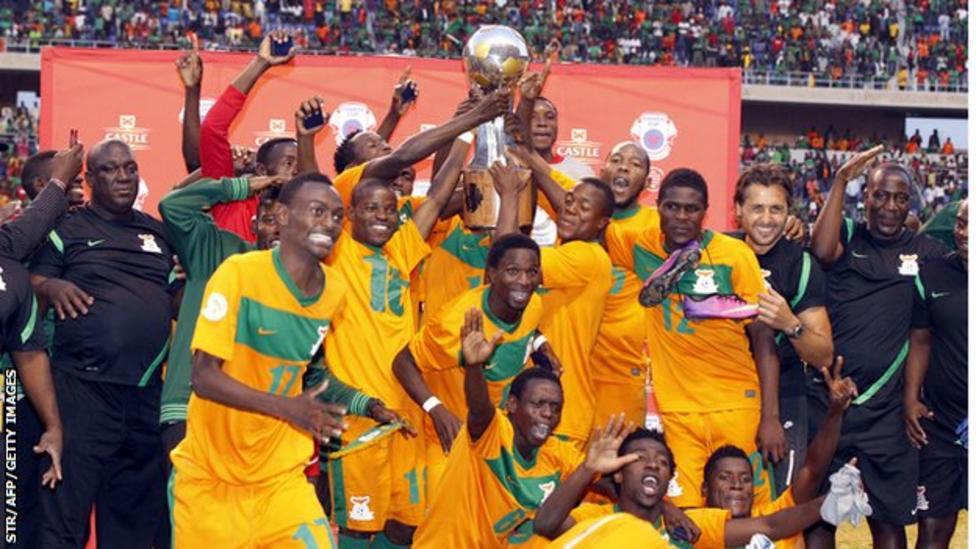 The make up of both of the 2017 teams is similar, with restrictions on the players both countries could call-up for the tournament which sits outside of Fifa's co-ordinated international calendar when clubs are obliged to release players.
Zambia coach Wedson Nyirenda has no foreign-based players or any from Zanaco and Zesco United, because of their participation in African club competition.
Zimbabwe did manage to secure the participation of five South African-based professionals but coach Chidzambwa was told he could only pick a maximum of two from each Zimbabwean club while their league continues.
It is a chance for him to win a third Cosafa Cup title after previous success in 2003 and 2009; his unbeaten record in the competition is 12 wins and two draws.
The absences take lustre from the tournament, leaving those involved to talk up the developmental aspect of the event but the rivalry will still be strong as the trophy is decided.
"We can't go onto the pitch and think it's already done," warned Nyirenda.
"If you do so you dig your own pit. I think it will be a great final to watch.
"This might not be our strongest team but the players are representing Zambian football and anyone who wears the jersey is expected to carry the flag high. There are no small games when you put the jersey on."